Herfstcollectie – herinneringsjuwelen – stockverkoop
Gepubliceerd op 02 november 2020
Hallo allemaal,
De herfst is in het land en de herfstvakantie voor de deur. Voor de herfst begon hebben we onze winkels en atelier een mooie opknapbeurt gegeven en kwamen we enkele schatten uit het verleden tegen. Die kunnen jullie deze herfstvakantie terugvinden op onze stockverkoop. Hadden we al verteld dat we dit samen organiseren met een leuke Brugse boetiek 'Mais-Oui' en de schoenenontwerper Chris Vos? Zo vindt elk een er wel zijn/haar gading: van kledij over schoenen naar de afwerking met onze juwelen. De stockverkoop gaat door van 1/11 tot en met 8/11/2020 en jullie vinden er oude collecties van Nico Taeymans, zowel zilver als fashion aan ronde prijzen of met een minimale korting van 30%. Een uitnodiging en de juiste openingsuren worden jullie in een aparte mail doorgestuurd.
Herfst: het wordt al wat donkerder. De bladeren kleuren en vallen tot een knisperend tapijt. Een frisse, rode neus halen en eens diep ademhalen want de winter staat voor de deur.
Om de donkere periode van het jaar – en laat ons eerlijk zijn: Covid helpt niet bepaald –  wat op te fleuren, hebben we een kleurrijke collectie gemaakt. Hangers, oorbellen en ringen met stenen in alle kleuren van de regenboog, gezet in goud en zilver. Aquamarijn, topaas, opaal, toermalijn, smaragd enz… Allemaal fantastisch mooie handgemaakte juwelen. Voor diegene die zijn of haar lief ten huwelijk wil vragen in alle kleurrijke schoonheid, voor diegene die met de feestdagen wil schitteren, voor diegene die graag een geschenkje geeft, voor diegene die zichzelf in de watten wil leggen, kom eens langs in onze winkels of kijk op onze website.
Herfst is ook afscheid nemen van de zomer; uitbundige kleuren, groen, warmte, licht, bloemen, buiten leven. Dat is even voorbij en volgend jaar in maart, begint alles weer terug met de lente. De prachtige cyclus van de natuur.
Spijtig genoeg ligt het voor ons, mensen, iets anders. Wanneer we afscheid nemen van het leven is er voor de overledene geen lente. De rouwenden gaan door een winter van gevoelens. Alles is plots kouder zonder degene die we liefhebben. We missen hen en willen hen bij ons houden.
Een kleine troost kan een herinneringsjuweel zijn. Een vingerafdruk, een haar of as verwerkt in een sieraad dat je zelf kiest. Een juweeltje gemaakt van de juwelen van de overledene. Een juweel van mooie herinneringen. We helpen jullie om dat juweel samen te maken in alle discretie en sereniteit. Maak een afspraak via winkel@nicotaeymans.be.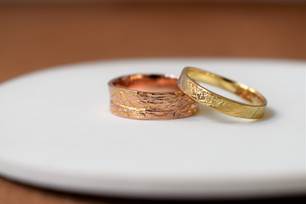 Hieronder weer een prachtig verhaal.
MET JOUW HAND IN DE MIJNE – een verhaal in Corona tijden
Een 2tal weken na de start van de eerste lockdown ontvingen we een mailtje van een dame. Zij vroeg ons of het mogelijk was om second skin ringen te laten maken met de handafdruk van haar man en van haarzelf. Omwille van de lockdown was dit niet mogelijk en vroegen we om dit uit te stellen.
We waren sprakeloos toen ze ons vertelde in haar antwoord dat haar man terminaal ziek was en dat ze niet wist of hij zo lang nog te leven had.
We moesten er niet over nadenken. We gingen dit oplossen.
De dag nadien hadden we het uitgedokterd: we zouden de benodigdheden voor de afdruk ontsmet bezorgen zodat ze zelf de afdrukken van elkaars handen konden nemen. In een mail beschreven we uitgebreid de gebruiksaanwijzing.
Een paar dagen later, een prachtige voorjaarsdag, overtraden we de regels van de lockdown en trokken richting 'bijna' kust.
Hun huisje lag afgelegen in Flanders Fields, een schattig open gerenoveerd huis met veel licht. Zij, een lieve kwieke dame, kwam onmiddellijk naar buiten en we overhandigden haar de benodigdheden, alles in 4-voud om zeker goede afdrukken te hebben.
Na een poosje wachten in de auto, bracht ze ons de afdrukken. Hij, haar zieke man met Pancreaskanker, bedankte ons door aan de raam te komen. Emotioneel vertrokken we met de belofte om zo snel mogelijk de ringen af te werken.
Een paar weken later gingen we weer op pad met de 2 ringen: een smalle ring met haar handafdruk en een brede met zijn levenslijn en nogmaals werden we begeleid door prachtig weer. We overhandigden haar de ringen op hun terras en ze schoof ze vastberaden aan haar vinger. Hij kwam naar buiten met mondmasker, schoof zijn mondmasker naar beneden, nam haar hoofd in beide handen en gaf haar zo innig en lief een zoen op de mond. 'En nu komen jullie even binnen' zei hij. Hij was zo gelukkig dat hij dit moment nog kon meemaken. Waarom hij het zo fijn vond dat zij die ringen nu had? 'Zo kan ze nog altijd hand in hand met mij door het leven. We lopen al jaren hand in hand'.
Er ging geen dag voorbij zonder dat we een klein momentje aan hen dachten. Een paar dagen geleden stuurden we dan toch een mailtje met de vraag hoe het met hem gesteld was. De daaropvolgende dag ontvingen we volgende mail:
Zo lief om nog eens aan ons te denken, na extra complicaties is … gisteravond thuis overleden. Hij weet dat ik hem niet alleen voor altijd in mijn hoofd en hart meedraag, maar dankzij jullie ook aan mijn ringvinger.
En we toosten op de liefde met een glimlach en een traan.
Groetjes
Nico, Nadja & team